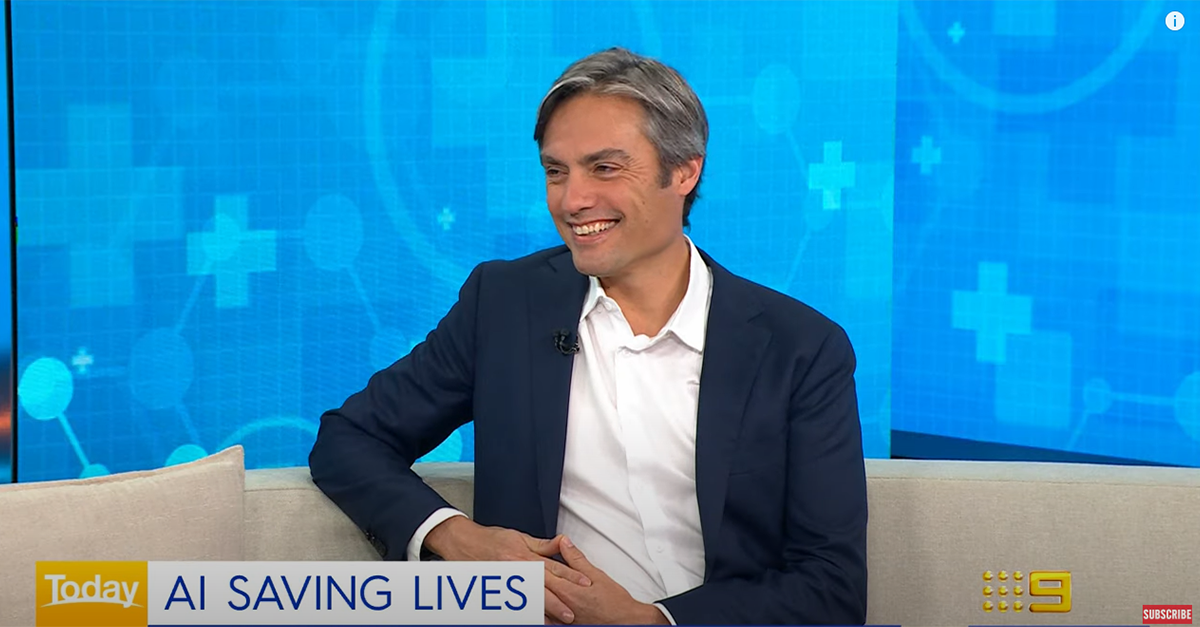 Ainsoff Deterioration Index™ sets the gold standard in improving patient outcomes by detecting health risks early
Breakthrough Australian AI technology can forecast whether a patient will need intensive care or possibly die more than 24 hours in advance giving clinicians the chance to intervene early.  The new technology called the Ainsoff Deterioration Index™ (ADI) has reduced adverse events and the length of time patients have to stay in hospital, according to new research.
The ADI which tracks the wellness of patients in hospital in real time, uses advanced machine learning technology to read the patient's vital signs and predict the likelihood of unexpected and sudden deterioration in a patient's condition.
It has been heralded as a key breakthrough in the use of AI technology to support patient care. "This digital safety prewarning tool is one of the most important innovations I have seen in my 35-year medical career," said Prof Jane Andrews, Medical Lead for CALHN GI Services in South Australia, one of four networks participating in international trials in Australia, the UK and Hong Kong.  "It doesn't replace the normal observations and processes for patient safety in hospital but provides advanced warning of future deterioration so that clinicians can act before a patient becomes seriously unwell. This gives us the chance to avoid deterioration, instead of simply responding once it has occurred."
A paper published in international medical journal 'Resuscitation' reports that the technology, which was invented by two Australian doctors, reduced adverse events by 16.7% (includes death and Emergency Response activation) and reduced unplanned admissions to intensive care by more than 20% in a ten-month trial at the Sydney Adventist Hospital.
"Traditional early warning systems lack the capability to monitor trends and can only provide a snapshot of a patient's health at a particular point in time," said Dr Levi Bassin, a heart surgeon in northern Sydney and one of the co-inventors. "We're thrilled that the Resuscitation Journal has published these results, which underscore the potency of the Ainsoff Deterioration Index™ in predicting patient deterioration, enabling clinical teams to intervene sooner and save lives."
The ADI, which has been developed by Australian company Beamtree, a pioneer in AI healthcare technology, serves as a compelling example of the transformative potential of technology in healthcare.  With its implementation, hospitals are evolving into safer, more efficient environments that prioritise patient care and wellbeing.  The ADI equips healthcare providers with real-time, personalised data that can detect subtle changes in a patient's condition, far earlier than traditional methods.
The ADI dynamically tracks changes in key health indicators such as blood pressure, heart rate, respiratory rate, oxygen saturation, temperature, and renal function. It delivers tailored alerts to nursing shift coordinators, offering a comprehensive summary of a patient's vital signs, their location, and their risk of deterioration. This functionality not only augments the precision of patient monitoring but also introduces a new level of proactive care, allowing medical teams to act swiftly and potentially avert critical patient deterioration.  This translates into a more attentive and responsive healthcare experience for patients, instilling a greater sense of security and trust in their care journey.
In terms of clinical outcomes, the paper confirmed a reduction in unplanned Intensive Care Admissions by 20.4% and Major Adverse Events (death or unplanned ICU admission or Medical Emergency Team activation) by 16.7%. It also reported significant improvement in patient haemodynamics (reduction in kidney injury, lower blood pressure and lactic acidosis), and a reduction in hospital stay length by 0.3 days per patient admission.
From a clinician's perspective, this tool promotes a streamlined workflow, supplying real-time, pertinent data that helps to reduce misdiagnosis chances and enable prompt action.  By mitigating the risk of false alerts, the ADI reduces stress and allows healthcare providers to focus their attention precisely where it's most urgently required.  This streamlined workflow can lead to improved job satisfaction and overall efficacy in the challenging environment of healthcare provision.
Beyond these clinical and operational benefits, the ADI also yields substantial financial returns for hospitals.  For example, in a 500-bed hospital, the ADI's ability to reduce the length of patient stays can result in around 5,000 saved bed days annually.  This significant improvement helps 'unclog' the patient flow within the hospital, freeing up space for treating more patients and dramatically reducing overall operational costs.  The results underline the immense potential of the ADI as a viable alternative to traditional alert systems.  When used in conjunction with traditional systems, it can significantly reduce major adverse events, improve overall clinical outcomes and operational cost savings.
Beamtree CEO Tim Kelsey said: "The Ainsoff Deterioration Index™ is a revolutionary application – a true early warning system that assists clinical teams to intervene early and provide optimal care, ultimately improving patient outcomes.  This tool represents the very best of Australian healthcare technology, marking a new chapter in medical innovation.  With the Resuscitation Journal's recognition of our clinical trial results, this only underscores our commitment to bringing meaningful change to healthcare and the hospitals we collaborate with across Australia."
After the initial 10-month clinical trial, Sydney Adventist Hospital adopted the ADI across the hospital due to its advanced predictive capabilities.  Brett Goods, Sydney Adventist Hospital CEO, said: "The Ainsoff Deterioration Index™ has been transformative for our healthcare delivery. It has substantially improved the way we monitor patient health, providing early and accurate predictions of patient risk.  This tool has already made a substantial impact in our hospital, reducing the length of hospital stays and significantly enhancing patient safety."
Central Adelaide Local Health Network, which manage the Royal Adelaide and Queen Elizabeth hospitals, is the first public hospital service in Australia to implement the technology. Prof Jane Andrews said: 'This technology is empowering for staff because once they receive an alert they can immediately see why the scoring tool was triggered and assess the patient appropriately. It is an outstanding example of how technology can support the safety and wellbeing of patients.'
To read the paper, click here.